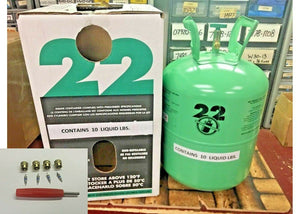 Refrigerant-22, R-22, R22, NewR22, 10lb Cylinder, USA, Free Ship, Valve Tool Kit
Regular price $359.00 Sale
Refrigerant-22, R--22, NewR22, 10lb Cylinder, USA, Free Ship, Valve Tool Kit
10 LB cylinder of R22. 
Made in the USA . 
Do not trust your unit to any other R22   
R22 R-22 Refrigerant 22
Air conditioning systems
Refrigeration systems, coolers, freezers etc.
Refrigerant R-22. 
Net Weight: 10 Lb.
(1) Valve Core Repair Kit
The can contains 10 Lbs. of liquid Refrigerant 22.
-NO RETURNS ON REFRIGERANT GASES UNLESS IT IS DONE IN COMPLIANCE WITH FEDERAL HAZMAT REGULATIONS AND RETURN SHIPPING FEES PAID BY THE BUYER.
We are a Certified

 

Hazardous Material Shipper with UPS and this item ships as a Hazardous

 

Material under the DOT 39 Restrictions and will be label with all the required

 

Hazardous Materials Labels.
All tanks are weighed and sealed before

 

shipment and the printed shipping label will indicate this.
We DO NOT accept returns as this item ships as a

 

Hazardous Material and returns are not accepted from those who are not certified to ship

 

Hazardous Materials within The United Parcel Service Company.
We use, new disposable tanks that are DOT30 approved!
Charge in an upright position for VAPOR
Charge in an upside down position LIQUID.
Disposable Can, cannot be refilled, has safety check valve which allows flow only one way, out! 
New & VIRGIN Refrigerant 22.
An EPA certificate is required to purchase
 R22
 Refrigerant  "OR" a statement saying you
 are
 purchasing this for "Resale Only". 
The "Resale Only" statement can be in the
 form
of an e-mail.
INTENDED FOR USE BY QUALIFIED, EPA CERTIFIED TECHNICIANS,WHO ARE TRAINED IN THE USE OF REFRIGERANT AND REFRIGERANT HANDLING.
**WARNING**
*ALWAYS WEAR EYE PROTECTION WHEN WORKING WITH REFRIGERANTS.
*ALWAYS WEAR GLOVES WHEN WORKING WITH REFRIGERANTS.
*CONTENT UNDER PRESSURE.
*VAPOR HARMFUL SKIN AND EYE IRRITANT.
DO NOT CONNECT THIS CAN TO THE HIGH PRESSURE SIDE OF THE SYSTEM, THIS MAY CAUSE THE CAN OR CONTAINER TO BURST AND RESULT IN SERIOUS INJURY.
ALWAYS REPAIR LEAKS BEFORE ADDING REFRIGERANT.
USE ONLY IN SYSTEMS DESIGNED FOR REFRIGERANT R22.
DO NOT MIX WITH ANY OTHER REFRIGERANT.
FOR LOW PRESSURE SIDE OF THE SYSTEM ONLY!!!!
DO NOT EXPOSE THIS CAN TO HEAT OR STORE IN TEMPERATURES ABOVE 120 F.
HIGH TEMPERATURES MAY CAUSE THE CAN TO BURST.
DO NOT PUNCTURE OR INCINERATE THIS CAN.
DO NOT STORE IN PARKED VEHICLES WHERE THE INSIDE TEMPERATURE MAY EXCEED 120 F.
KEEP OUT OF REACH OF CHILDREN.
This listing is for an EPA regulated refrigerant, which may only be sold on our eBay community with the following disclaimer;
In order to purchase this item; You must be certified by the Environmental Protection Agency (EPA), under Section 608 or Section 609 of the United States Clean Air Act and as a result of the Montreal Protocol Established on September 15th, 1987.
You must show proof of certification before paying and before the item is shipped. Merely stating that you are "EPA certified", is not enough to satisfy these requirements.
*If you are a wholesaler and you are selling to a buyer who will resell the item to a certified buyer, you must state that you will keep sufficient records to establish that the purchaser of the refrigerant is going to resell it to certified technicians.
SHIPPING INFORMATION: We are a U.P.S. Certified Hazardous Material Shipper for both The United States and Canada shipments.

The package will be properly labeled as a "Hazardous Materials Package" with all the required United States Department of Transportation identification labels as required per United States Department Of Transportation CFR Title 49 Shipping regulations.
UPS Ground Only!
This item requires a "ADULT SIGNATURE"!