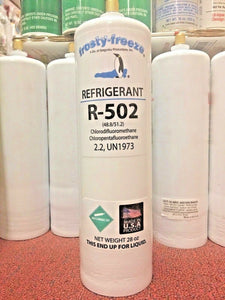 R502, R-502, Refrigerant 502, New, Virgin, Net Wt. 28 oz. Can, 1/4" MF, Kit 712
Regular price $189.95 Sale
R502, R-502, Refrigerant 502, New, Virgin, Net Wt. 28 oz. Can, 1/4" MF, Kit 712
This item will be shipped ORM-D (which requires the package be marked as such, AND IT WILL BE!) with domestic shipping only. 
We are a Certified UPS

 

Hazmat Shipper to USA and Canada. 
Our Kit # 709
*Includes a STP Racing Sticker.
R502, R-502, Refrigerant 502, New, Virgin, Net Wt. 28 oz. Can, No Taper Needed!
Top fitting is 1/4" male flare with a valve core.
Developed for use in low temperature refrigeration (the evaporator pressure stays out of vacuum down to -40°F). R-502 offers lower discharge temperature and improved capacity compared to R-22. Commercial refrigeration systems can perform low temperature refrigeration in a single stage with relatively inexpensive compressors. Since the phase-out of R-502 in 1995, service quantities are limited.
An EPA certificate is required to purchase R502
 Refrigerant  "OR" a statement saying you are
 purchasing this for "Resale Only". 
The "Resale Only" statement can be in the form
of an e-mail.