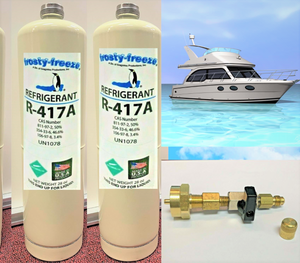 R417a,For Dometic Marine Air Conditioner Refrigerant R417a,(2) Large 28 oz. Cans
Regular price $369.65 Sale
For Dometic Marine A/C R417a Refrigerant R-417a For Dometic Marine Air Conditioner Refrigerant
(2) Large 28 oz., self-sealing Cans of R-417a
(1) CGA600 Top mount, screw-on can taper with on/off ball valve and a 1/4" male flare hose connection.
Everything you need to recharge a Dometic Marine A/C unit that uses R417a or R22.
(Drop-In Replacement for R22)
Each can contains 28 oz., which is almost 2 lbs. of refrigerant gas.
(Note: 16 oz. Equals 1 Lb.)
Refrigerant R-417a and R-22 is used in, Marine Air-Conditioners Campers and RV Trailers
Aviation A/C systems
Designed for Technicians trained in refrigeration A/C trades.
**WARNING** *ALWAYS WEAR EYE PROTECTION WHEN WORKING WITH REFRIGERANTS. *ALWAYS WEAR GLOVES WHEN WORKING WITH REFRIGERANTS. *CONTENT UNDER PRESSURE. *VAPOR HARMFUL SKIN AND EYE IRRITANT. DO NOT CONNECT THIS CAN TO THE HIGH PRESSURE SIDE OF THE SYSTEM, THIS MAY CAUSE THE CAN OR CONTAINER TO BURST AND RESULT IN SERIOUS INJURY. USE ONLY IN SYSTEMS DESIGNED FOR REFRIGERANT R417a or R22. DO NOT MIX WITH ANY OTHER REFRIGERANT. FOR LOW PRESSURE SIDE OF THE SYSTEM ONLY!!!! DO NOT EXPOSE THIS CAN TO HEAT OR STORE IN TEMPERATURES ABOVE 120 F. HIGH TEMPERATURES MAY CAUSE THE CAN TO BURST. DO NOT PUNCTURE OR INCINERATE THIS CAN. DO NOT STORE IN PARKED VEHICLES WHERE THE INSIDE TEMPERATURE MAY EXCEED 120 F. KEEP OUT OF REACH OF CHILDREN.
You must be certified by the (EPA), Section 608 or Section 609 to purchase this item.
You must show proof of certification before paying and before the item is shipped.
*If you are purchasing this item for resale only to EPA Certified Technicians then please indicate so in a message and please keep accurate records of same.
Thank you.
SHIPPING INFORMATION:
We are a U.P.S. Certified Hazardous Material Shipper for both the United States and Canada. The package will be properly labeled as a "Hazardous Materials Package" with all the required United States Department of Transportation identification labels as required in DOT-CFR Title 49 shipping regulations including "ORMD" Limited Quantities Exemption shipments.