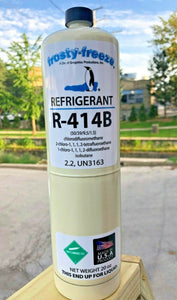 R414b, Hot Shot Refrigerant R-414b, Disposable 20 oz Can, CGA600 Top Connection
Regular price $136.95 Sale
(1) 20 oz. Disposable Can Of R414b (HOT SHOT) Refrigerant with a "CGA600" top connection. 
Refrigerant R-414b is used on coolers and freezers. 
The can contains 20 oz. of liquid refrigerant R-414b..
This can requires a special "Top-Mount" Screw-On Can taper that you must purchase separately and can be saved for future use.
If you do not have the CGA600 Valve please visit our store and go to the "Can Tapers" category.
There you can search for CGA600 tapers. 
Once you have this Special CGA600  Valve you will not need to purchase another and it will work on "ALL" our 20 oz. cans. 
Once you have the CGA600  valve you can purchase just the cans in the future and save money!! 
This is a "One-Time use Disposable can and cannot be refilled per D.O.T. (49 U.S.C 5124) Law. 
After use it is to be deposed of. 
*FOR USE BY QUALIFIED TECHNICIANS WITH APPROPRIATE MANUALS.
USE ONLY ON Refrigeration and AIR CONDITIONING SYSTEMS DESIGNED FOR R414b.
 DO NOT MIX WITH ANY OTHER REFRIGERANT. 
Refrigerant Can Notes: 
INTENDED FOR USE BY QUALIFIED, EPA CERTIFIED TECHNICIANS,WHO ARE TRAINED IN THE USE OF REFRIGERANT AND
 REFRIGERANT HANDLING.
**WARNING**
*ALWAYS WEAR EYE PROTECTION WHEN WORKING WITH REFRIGERANTS.
*ALWAYS WEAR GLOVES WHEN WORKING WITH REFRIGERANTS.
*CONTENT UNDER PRESSURE.
*VAPOR HARMFUL SKIN AND EYE IRRITANT.
DO NOT CONNECT THIS CAN TO THE HIGH PRESSURE SIDE OF THE SYSTEM, THIS MAY CAUSE THE CAN OR CONTAINER TO
 BURST AND RESULT IN SERIOUS INJURY.
ALWAYS REPAIR LEAKS BEFORE ADDING REFRIGERANT.
USE ONLY IN SYSTEMS DESIGNED FOR REFRIGERANT R414b.
DO NOT MIX WITH ANY OTHER REFRIGERANT.
FOR LOW PRESSURE SIDE OF THE SYSTEM ONLY!!!!
DO NOT EXPOSE THIS CAN TO HEAT OR STORE IN TEMPERATURES ABOVE 120 F.
HIGH TEMPERATURES MAY CAUSE THE CAN TO BURST.
DO NOT PUNCTURE OR INCINERATE THIS CAN.
DO NOT STORE IN PARKED VEHICLES WHERE THE INSIDE TEMPERATURE MAY EXCEED 120 F.
Do not refill can.
KEEP OUT OF REACH OF CHILDREN.