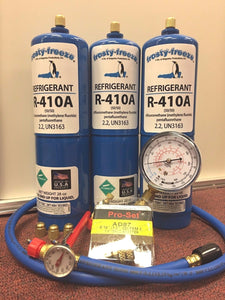 R410, R410a, 3 Can, Refrigerant Recharge Kit, each can 28 oz., r410, 410, R-410
Regular price $649.95 Sale
R410, R410a, 3 Can, Refrigerant Recharge Kit, each can 28 oz., r410, 410, R-410
This 3 can R410a kit is for Recharging Refrigerant R-410a Systems.
Refrigerant R410a is used on almost all "NEW" A/C Units and almost all of the "mini-split"  A/C systems.
As R22 is being phased out, R410a is now the refrigerant found on all "NEW" A/C Systems.
This recharge kit includes;
(3) 28 oz. Can's of R410a. Total refrigerant is 84 oz. or 5.25 lbs. (16 oz. equals 1 lb.)
(1) Resuable , Quick Connect (screw-on), Top Mount Can Taper with On/Off Valve. 
(1)  SPECIAL, Refrigerant R-410a, "CHECK & CHARGE-IT" gauge.
(1) Pocket Thermometer for checking discharge air temps.
Gauge also shows the correct system pressure.
(1) 36" Charging Hose with a 1/4" Swivel connector and does have the valve core depressor on the system connection end.
(1) R22 to R410 Brass "screw-on" adapter made by "CPS PRODUCTS" part number AD87.
(3) 1/4" BRASS CAPS
(3) VALVE CORES
Normal R410a low-side system pressure while unit is running is; 120 to 150 psi. depending on the outdoor and indoor temperature.
Some R410a systems still use the 1/4" male flare so in this case the charging hose with this kit will connect directly onto it.
Also included is a 5/16" (R410a) x 1/4" Adapter, CPS Part# AD87.
You will need this because the new size found on almost all mini-splits and some R410a A/C systems is now larger (5/16") to prevent mixing,  so now you will have everything you need to recharge a R410a system. 
****FOR USE BY EPA CERTIFIED & QUALIFIED TECHNICIANS.
USE ONLY IN AIR CONDITIONING SYSTEMS DESIGNED FOR R410A.
DO NOT MIX WITH ANY OTHER REFRIGERANT.
THIS IS DIRECTLY FROM THE US-EPA WEB SITE;
"Does the EPA REFRIGERANT sales restriction apply to HFC refrigerants?
The refrigerant sales restriction only applies to refrigerants consisting of an ozone-depleting substance.
Therefore, HFC refrigerants such as R-134a, and HFC refrigerant blendsthat do not contain an ozone-depleting substance, such as R-404A and R-410A, are not currently covered under the EPA Refrigerant sales restriction.
Refrigerant Can Notes
**WARNING**
*ALWAYS WEAR EYE PROTECTION WHEN WORKING WITH REFRIGERANTS.
*ALWAYS WEAR GLOVES WHEN WORKING WITH REFRIGERANTS.
*CONTENT UNDER PRESSURE.
*VAPOR HARMFUL SKIN AND EYE IRRITANT.
DO NOT CONNECT THIS CAN TO THE HIGH PRESSURE SIDE OF THE SYSTEM, THIS MAY CAUSE THE CAN OR CONTAINER TO
 BURST AND RESULT IN SERIOUS INJURY.
ALWAYS REPAIR LEAKS BEFORE ADDING REFRIGERANT.
USE ONLY IN SYSTEMS DESIGNED FOR REFRIGERANT R410A.
DO NOT MIX WITH ANY OTHER REFRIGERANT.
FOR LOW PRESSURE SIDE OF THE SYSTEM ONLY!!!!
DO NOT EXPOSE THIS CAN TO HEAT OR STORE IN TEMPERATURES ABOVE 120 F.
HIGH TEMPERATURES MAY CAUSE THE CAN TO BURST.
DO NOT PUNCTURE OR INCINERATE THIS CAN.
DO NOT STORE IN PARKED VEHICLES WHERE THE INSIDE TEMPERATURE MAY EXCEED 120 F.
Do not refill can.
KEEP OUT OF REACH OF CHILDREN.