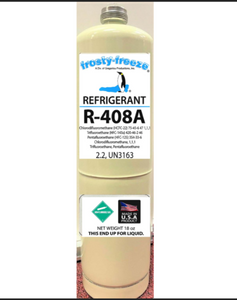 R408a, 18 oz. Can. CGA600 Top, Replacement for R502 Med. & Low Temp. Applications
Regular price $121.50 Sale
(1) R408a, 18 oz. Can.
R408A is a blend of R22/R125/R143a considered to be a retrofit replacement for R502 in medium and low temperature refrigeration applications.
R-408A refrigerant is a hydrochlorofluorocarbon (HCFC) option designed to replace the hydrofluorocarbon (HFC) refrigerant R-502.
Older systems with limited condensing capacity, and low- or medium-temperature commercial refrigeration systems used in supermarkets often use R-502, which is now being phased out as part of the Montreal Protocol.
R-408A is a very effective retrofit option for that equipment. 
Because R408A refrigerant performs well in applications requiring lower operating pressures, it's also a very effective alternative to Freon™ HP80 (R-402A).
The top connection is called "CGA600".
You will need a special top-mount, screw-on can taper for this can.
Visit our store and go to the Can Taper Category, look for the CGA600 tapers.
We have three styles to choose from, a plain one with a internal valve core, a on/off valve style and a gauge setup with a on/off valve.
All three have 1/4' male flare hose connections which is standard for the industry.
.Once you have the CGA Can taper you can save money by purchasing just the can.
The CGA600 Can Tapers fit all our small cans except the R410a, R470a and R32.