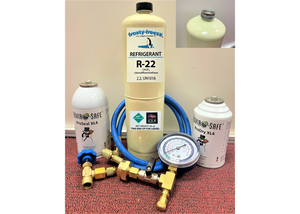 R22, 28 oz., A/C, Refrigeration, RECHARGE KIT GAUGE, PRO SEAL XL4 & PRO DRY XL4
Regular price $319.95 Sale
Freon R22 Re Charging Kit 
(1) 28 oz. "Self-Sealing" Can
(1) CGA600 Can Taper with Gauge, on/off valve and 1/4" male flare hose connection.
(1) 36" Charging Hose
(1) Envirosafe ProSealXL4
(1) Envirosafe ProDryXL4
(1) Envirosafe can taper
For any refrigeration or air conditioning system containing refrigerant R-22!
Refrigerant R22 is used in ,
Air-Conditioners
Coolers and Freezers
Some appliances
R22 Recharge Kit with "IN-LINE" TEST GAUGE and Charging hose.
Includes a CGA600 Can Taper with On/Off Valve and Check & Charge-It Gauge.
The hose connection is 1/4" male flare with brass cap.
One (1) LARGE 28 oz. Self-Sealing Can of R22 Refrigerant.

CGA600 Top Mount, Screw-On,  Can taper with "IN-LINE" "CHECK AND CHARGE-IT" gauge and  36" charging hose!
Check and Charge it Gauge
EPA Refrigerant Handling Certification is required to purchase this product.
*** If the purchase is for "Resale Only" EPA Certification is not needed.
By purchasing this item you are affirming one or the other.
(1) Can of Super Strength

 

Pro-Seal XL4,  "Leak Stop"
Super Strength ProSeal XL4  is designed for repairing leaks in condensers, evaporators, copper line, and solder joints. 
This product is an epoxy that reacts to water and air. 
When coming in contact with the atmosphere, it forms a seal over the leak. 
If your system stays charged for one day when running, this product will fix most leaks that you may encounter.
If there is air and water in your system, pull a deep vac on the system and boil moisture out of the system. 
Another option is to use Pro Dry XL4 (included) to turn moisture into synthetic oil. 
This will prevent Super Strength Pro Seal XL4 from reacting inside your system.
In most cases, if a system has not leaked below 15 psi, there is typically not air or moisture in the system. The system has greater pressure than what the atmospheric pressure is and cannot leak unless the system is below 15 degrees.
Save on costly repairs, use Super Strength ProSeal XL4. 
Made for large systems (5 ton A/C's)
Note:  A/C unit must be in operational condition and running before Pro Seal can be installed (if system has leaked down to zero, you must also use Pro Dry XL4.
Directions:
1.  Install can to can tap (raise piercing valve so it does NOT pierce can)
2.  connect other end to A/C unit (low pressure port -- big line)
3.  Turn on A/C unit
4.  Pierce can.  Open valve slowly with can upside down.
5.  When can is empty, change can and continue charging with refrigerant until you reach manufacturer's pressure specs.
(1) Can of Super Strength Pro-Dry XL4
*Ideal to use in recharging an R22 Home A/C system.  
Removes moisture to protect from system failure due to corrosion since moisture robs a system of cooling capacity
Prevents Corrosion
Treats 1 1/2 - 5 ton units
Use with Pro-Seal  to protect sealants from reacting in system.
 Should be used on any home A/C system that has leaked below 15 psi (running or not running) OR  If the system has ever leaked in the past below 15 psi.  If you do not wish to use Pro Dry, the system must be vacuumed prior to installing Pro Seal.
*When put into an A/C system that has moisture or air, Pro Dry  mixes with the moisture and air in system forming a synthetic oil which then mixes with the oil in the system
Can be used on any Air Conditioning, Refrigeration or Heat Pump system that use's R-22 REFRIGERANT.
R-22
Also for R22 Heat Pump systems.
This kit includes a Can taper with "in-line gauge" , a 36" charging hose.
The hose connection is 1/4" Female swivel flare nut with the valve core depressor!
****FOR USE BY QUALIFIED TECHNICIANS WITH APPROPRIATE INFORMATION MANUALS.
USE ONLY IN AIR CONDITIONING OR REFRIGERATION SYSTEMS DESIGNED FOR R22.
DO NOT MIX WITH ANY OTHER REFRIGERANT.