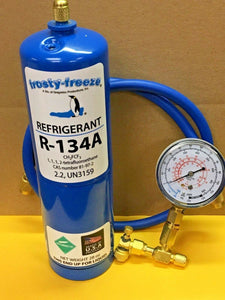 R134, R-134a, Refrigerant, LARGE CAN, 28 oz. Check & Charge It Gauge, R134a KIT
Regular price $199.96 Sale
R134, R-134a, Refrigerant, LARGE CAN, 28 oz. Check & Charge It Gauge, R134a KIT
R134a 
RECHARGE YOUR R134a system!
Coolers, Freezers or Automotive A/C.
*NEW STYLE, LARGE 28 oz. can of R134a Refrigerant.
Price is for item as pictured.
The connection on top of the can is 1/4" male flare with valve core.
Includes the top-mount, screw-on dispenser with a 1/4" male flare hose connection. 
Check and Charge-It Gauge with 1/4 hose connection.
36" charging hose, both ends of hose are 1/4" female flare and one end has a valve core depressor.
As indicated on the EPA Web Site under "Refrigerant Sales Restrictions", and as of January 01, 2018, refrigerant R134a and R1234yf that is sold in containers of 2 Lbs. (32 oz.) or less, does NOT require EPA Certification to purchase.
This is directly from the EPA Web Site......

" Small cans of non-exempt MVAC (Motor Vehicle Air Conditioning) Refrigerant for example,  (containers designed to hold two pounds or less) that have unique fittings, and self-sealing valves, can continue to be sold to persons without EPA Certification for DIY (Do-It-Yourselfers) on their vehicles. 

This item ships UPS-Ground as a Hazardous Material Package under the "ORM-D" Limited Quantities exemption as listed in DOT-US CFR49 shipping regulations.