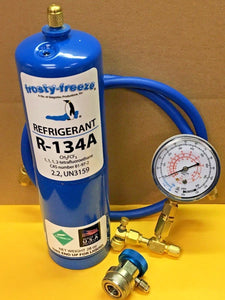 R134, R-134a, Refrigerant, LARGE CAN, 28 oz. Check & Charge It Gauge, R134a KIT
Regular price $195.99 Sale
R134, R-134a, Refrigerant, LARGE CAN, 28 oz. Check & Charge It Gauge, R134a KIT
R134a 
RECHARGE YOUR R134a system!
Coolers, Freezers or Automotive A/C.
*NEW STYLE, LARGE 28 oz. can of R134a Refrigerant.
Price is for item as pictured.
The connection on top of the can is 1/4" male flare with valve core.
Includes the top-mount, screw-on dispenser with a 1/4" male flare hose connection. 
Check and Charge-It Gauge with 1/4 hose connection.
36" charging hose, both ends of hose are 1/4" female flare and one end has a valve core depressor.
R134a Low-Side Automotive Air Conditioning coupler that will connect to this hose.
You can use this kit for auto a/c work or refrigeration systems.