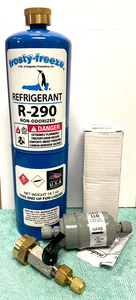 R-290 Modern Refrigerant, "HC", 14.1 oz., True, Coke Coolers, Imbera & Monster
Regular price $92.95 Sale
R-290 Modern Refrigerant, "HC", 14.1 oz., True, Coke Coolers, Imbera & Monster
R290 Refrigerant, "HC", 14.1 oz., Coke Coolers, True, Imbera, High Purity
(1) R290, 14.1 oz. in a DOT 39 Cylinder with a CGA600, self-sealing top.
(1) CGA600 Top-Mount, Screw-On Can Taper with On/Off Valve and a 1/4" male flare hose connection.
(1) Sealed Unit Parts Company Part# LLD032, 1/4" Male Flare Filter Drier
High Purity
Hydrocarbon
Non-odorized
IMBERA R290 Coolers
Coke R290 Coolers
True R290 Coolers
Monster R290 Coolers
INTENDED FOR USE BY QUALIFIED, EPA CERTIFIED TECHNICIANS,WHO ARE TRAINED IN THE USE OF REFRIGERANT AND REFRIGERANT HANDLING. 
**WARNING** 
*ALWAYS WEAR EYE PROTECTION WHEN WORKING WITH REFRIGERANTS. 
*ALWAYS WEAR GLOVES WHEN WORKING WITH REFRIGERANTS.
*CONTENT UNDER PRESSURE. 
*VAPOR HARMFUL SKIN AND EYE IRRITANT. 
DO NOT CONNECT THIS CAN TO THE HIGH PRESSURE SIDE OF THE SYSTEM, THIS MAY CAUSE THE CAN OR CONTAINER TO BURST AND RESULT IN SERIOUS INJURY. 
USE ONLY IN SYSTEMS DESIGNED FOR REFRIGERANT R290. 
DO NOT MIX WITH ANY OTHER REFRIGERANT. 
FOR LOW PRESSURE SIDE OF THE SYSTEM ONLY!!!! 
DO NOT EXPOSE THIS CAN TO HEAT OR STORE IN TEMPERATURES ABOVE 120 F. 
HIGH TEMPERATURES MAY CAUSE THE CAN TO BURST. 
DO NOT PUNCTURE OR INCINERATE THIS CAN. 
DO NOT STORE IN PARKED VEHICLES WHERE THE INSIDE TEMPERATURE MAY EXCEED 120 F. 
KEEP OUT OF REACH OF CHILDREN.