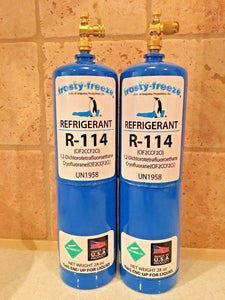 R-114, R114, Refrigerant, Dichlorotetrafluoroethane, (2) 28 oz. Disposable Cans
Regular price $425.00 Sale
R-114, R114, Refrigerant, Dichlorotetrafluoroethane, (2) 28 oz. Disposable Cans
1,2-Dichlorotetrafluoroethane, or R-114, also known as cryofluorane, is a chlorofluorocarbon with the molecular formula ClF₂CCF₂Cl. 
Its primary use has been as a refrigerant.
Boiling Point:  38.3°F (3.5°C)
Odor:  faint, ether-like (high concentrations)
IDHL (Immediate danger):  15000 ppm
LC 50 (median concentration) :  720,000 ppm (rat, 30 min); 700,000 ppm (mouse, 30 min); 750,000 ppm (rabbit, 30 min)
Refrigerant R-114
(2) 28 0z. Cans with on/off valve.
The hose connection on the top of the can is 1/4" male flare with an internal valve core (self-Sealing Can).
The can comes with a "screw-on" open/close valve with a 1/4" hose connection.
Used in positive pressure centrifugal chillers for air conditioning and industrial process cooling, as well as for air conditioning in very high ambient temperature conditions. 
Its very good chemical stability makes it useful in highly corrosive applications, such as for shipboard chillers. 
Good high temperature stability along with lower vapor pressures makes it a good choice for high ambient air conditioning, for example, in a steel mill crane.
Refrigerant that is approved by the Environmental Protection Agency (EPA) is allowed for sale but you must be EPA Certified and provide proof before the item will ship.
- You MUST BE be certified by the EPA to purchase refrigerants.
- You MUST show proof of certification before paying and before the item can be shipped.
Purchases that are for "Resale Only" to EPA certified Technicians do not require Certification as indicated on the EPA Web Site, Refrigerant Sales Restrictions Category,