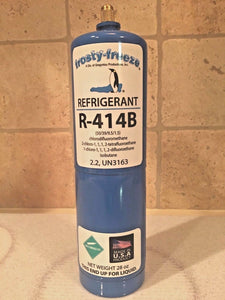 Hot Shot, R414B, Replaces R12, R134a, R401A, R401B, R409A, R416A, R420A, & R500
Regular price $189.95 Sale
Hot Shot, R414B, Replaces R12, R134a, R401A, R401B, R409A, R416A, R420A, & R500
ICOR, HOT SHOT Refrigerant
R-414B
Hot Shot® Replaces R12, R134a, R401A, R401B, R409A, R416A, R420A, & R500, 28 oz.
Refrigeration R-414B Refrigerant Recharge Kit
(1) 28 oz. Can of Hot-Shot R-414B
1/4" male fitting on top with internal valve core.
This can contains 28 oz., which is almost 2 lbs. of refrigerant gas.
(Note: 16 oz. Equals 1 Lb.)
The operating characteristics you need. 
Hot Shot® almost exactly duplicates the operating characteristics of R-12. 
Use it for low, medium, and high temperatures. 
Use it in autos, aircraft, and boats. 
Use it in air-conditioning and refrigeration systems—anywhere you used to use R-12. 
With Hot Shot®, there is simply no need to inventory multiple gasses.

No systems modifications required. 
Using Hot Shot® requires no inconvenient oil changes. 
You're good to go for the entire R-12 temperature range. 
Plus, no expensive parts retrofits are required.

Proven quality and performance. 
Hot Shot® is in use in thousands of vehicles and installations throughout the world. 
You can use it with complete confidence.

Safe and responsible. 
Hot Shot is classified by ASHRAE as nontoxic and nonflammable (A1) and is EPA/SNAP-accepted
EPA Refrigerant Handling Certification is required to purchase this product.
*** If the purchase is for "Resale Only" EPA Certification is not needed.
By purchasing this item you are affirming one or the other.
INTENDED FOR USE BY QUALIFIED, EPA CERTIFIED TECHNICIANS,WHO ARE TRAINED IN THE USE OF REFRIGERANT AND REFRIGERANT HANDLING.
**WARNING**
*ALWAYS WEAR EYE PROTECTION WHEN WORKING WITH REFRIGERANTS.
*ALWAYS WEAR GLOVES WHEN WORKING WITH REFRIGERANTS.
*CONTENT UNDER PRESSURE.
*VAPOR HARMFUL SKIN AND EYE IRRITANT.
DO NOT CONNECT THIS CAN TO THE HIGH PRESSURE SIDE OF THE SYSTEM, THIS MAY CAUSE THE CAN OR CONTAINER TO
 BURST AND RESULT IN SERIOUS INJURY.
USE ONLY IN SYSTEMS DESIGNED FOR REFRIGERANT R414B.
DO NOT MIX WITH ANY OTHER REFRIGERANT.
FOR LOW PRESSURE SIDE OF THE SYSTEM ONLY!!!!
DO NOT EXPOSE THIS CAN TO HEAT OR STORE IN TEMPERATURES ABOVE 120 F.
HIGH TEMPERATURES MAY CAUSE THE CAN TO BURST.
DO NOT PUNCTURE OR INCINERATE THIS CAN.
DO NOT STORE IN PARKED VEHICLES WHERE THE INSIDE TEMPERATURE MAY EXCEED 120 F.
KEEP OUT OF REACH OF CHILDREN.