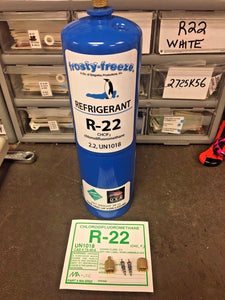 R22, R-22, 28 oz. Can, Home Repair Kit A/C Cool Repair Kit Valve Cores, Stem Tool & Brass Cap
Regular price $194.95 Sale
Includes:
(2) Valve Cores
(1) Brass Valve Core Tool
(1) Brass Cap
R22 Refrigerant 
Air Conditioner, Coolers & Freezers,
(1) Large 28 oz. Can Of Refrigerant R-22
Our cans "DO NOT" require any special can capers, which ALL LEAK ANYWAY!
You can connect any 1/4" refrigeration hose that has a valve core depressor on the end  to the top 1/4" male flare fitting. 
The can comes with a nice brass cap to keep the fitting clean and prevent any accidently leaks!
When you figure the cost of those leaky "clamp-on" can tap's.....Our can will bring you more value.
EPA Refrigerant Handling Certification is required to purchase this product.
*** If the purchase is for "Resale Only" EPA Certification is not needed.
By purchasing this item you are affirming one or the other.
Air-Conditioners

Heat Pump Systems
Coolers and Freezers
Some small appliances
INTENDED FOR USE BY QUALIFIED, EPA CERTIFIED TECHNICIANS,WHO ARE TRAINED IN THE USE OF REFRIGERANT AND
 REFRIGERANT HANDLING.
**WARNING**
*ALWAYS WEAR EYE PROTECTION WHEN WORKING WITH REFRIGERANTS.
*ALWAYS WEAR GLOVES WHEN WORKING WITH REFRIGERANTS.
*CONTENT UNDER PRESSURE.
*VAPOR HARMFUL SKIN AND EYE IRRITANT.
DO NOT CONNECT THIS CAN TO THE HIGH PRESSURE SIDE OF THE SYSTEM, THIS MAY CAUSE THE CAN OR CONTAINER TO
 BURST AND RESULT IN SERIOUS INJURY.
USE ONLY IN SYSTEMS DESIGNED FOR REFRIGERANT R22.
DO NOT MIX WITH ANY OTHER REFRIGERANT.
FOR LOW PRESSURE SIDE OF THE SYSTEM ONLY!!!!
DO NOT EXPOSE THIS CAN TO HEAT OR STORE IN TEMPERATURES ABOVE 120 F.
HIGH TEMPERATURES MAY CAUSE THE CAN TO BURST.
DO NOT PUNCTURE OR INCINERATE THIS CAN.
DO NOT STORE IN PARKED VEHICLES WHERE THE INSIDE TEMPERATURE MAY EXCEED 120 F.
KEEP OUT OF REACH OF CHILDREN.